The Shower Installation You Won't Regret
Our certified installers ensure top quality while working to provide a hassle-free remodel.
Kohler® LuxStone™ Showers in North & South Carolina
Kohler® LuxStone showers have been designed for homeowners who desire a high quality, low maintenance, beautiful shower with multiple styles and accessories. LuxStone showers are 100% customizable with a variety of luxury amenities as well as the option of creating a senior-friendly shower design.
Call us today at ​844-786-2882 or contact us online below to request a quote.
Benefits of LuxStone™ Showers
No matter what form your shower routine takes, Kohler® LuxStone will make it more beautiful and much more enjoyable.
LuxStone™ Walk-In Shower Design
LuxStone™ shower walls come in a range of colors, patterns and textures. Each shower is custom fitted and installed in as little as a day or two.
Long-term Shower Durability
LuxStone shower walls are made of 70% crushed stone, which provides long lasting, high quality durability.
Low-Maintenance Shower Walls
The joints connecting our LuxStone™ shower walls conceal silicone for an easy to clean, seamless finish.
Walk-In Shower Accessories
We offer a range of accessories including recessed storage shelving , shower seating, and adaptable faucet configurations, and much more!
Slip-Resistant Surface – Sit, stand, enter, and exit with ease.
Low Entry Threshold – Our 3" shower base is of the lowest in the industry.
Secure Shower Seat – Enjoy sitting in an ideal shower position with an ergonomic seat.
Easy Access Controls – Configure your shower controls to be comfortably within reach.
Fixed Handrails – We are able to place shower handrails in the location most suitable for you.
Shower Barre – Provides stability in your shower as well as adding additional storage space.
Faucets & Fittings – Choose from our advanced technology Kohler Katalyst shower heads or the HydroRail kit with a multifunction hand shower.
Wide Entry Doors – Our walk-in showers can be completed with beautiful frosted or clear sheet glass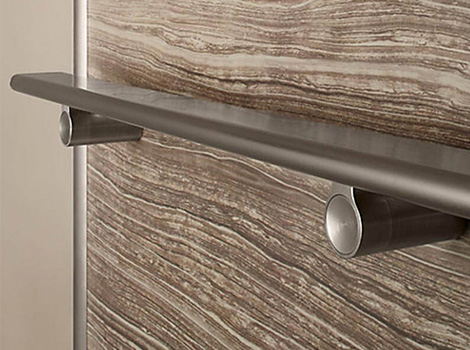 Shower Barre
The elegant shower barre provides stability as you enter and exit the shower space. The slim, flat profile allows the barre to double as additional storage space.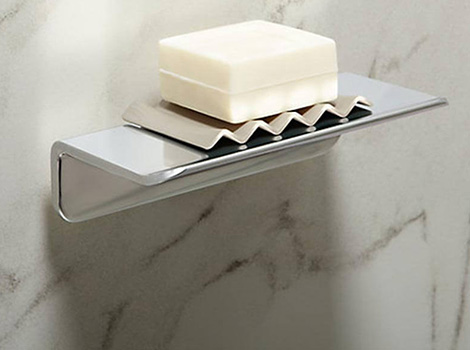 Floating Shelf
These adaptable shelves can be placed anywhere in the shower. You can also install the floating shower shelves outside the shower to open up more storage possibilities.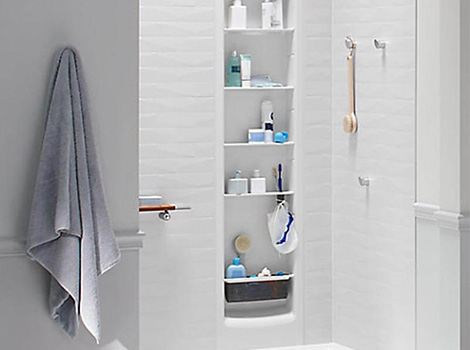 Recessed Shelving
Optional shelving provides convenient storage space. With a basket and four adjustable shelves, you can keep everything clean and organized.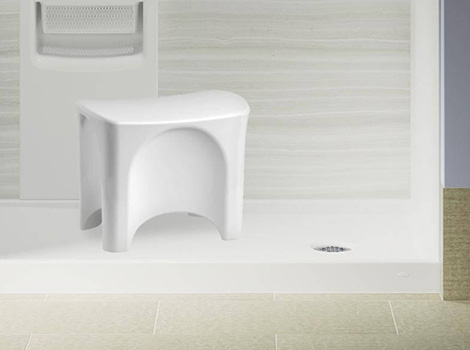 Movable Seat
Sit comfortably in the shower with this lightweight seat. Use it for increased stability while you wash, and use it as a tool for stretching.
Professional One to Two Day Installation
Our team at BathPro will complete your LuxStone™ shower remodel or upgrade using only Kohler-certified professional installers in as little as a day or two. At BathPro will take the time to get to know you personally and understand your needs before performing any bathroom services. We encourage you to get in touch with us to learn more about walk-in shower services in North & South Carolina.
The LuxStone™ shower fills the space of your existing bath without the need for a full bathroom remodel.
Contact BathPro today to learn more about same-day walk-in shower installation services. Call us at 844-786-2882 or contact us online below!
LuxStone™ Showers in North & South Carolina
As the Kohler LuxStone™ Dealer in North & South Carolina, BathPro services the entire state with quality walk-in bath and walk-in shower installation services. If you have a question about walk-in showers for your home in North & South Carolina, call us today! We look forward to servicing homes in our service area,
Service Areas
Serving all of North Carolina
Asheville, NC
Cary, NC
Chapel Hill, NC
Charlotte, NC
Concord, NC
Durham, NC
Fayetteville, NC
Gastonia, NC
Greensboro, NC
Greenville, NC
Raleigh, NC
Wake Forest, NC
Wilmington, NC
Winston-Salem, NC
and more
Serving all of South Carolina
Charleston, SC
Columbia, SC
Florence, SC
Greenville, SC
Myrtle Beach, SC
Rock Hill, SC
Spartanburg, SC
and more