The Shower Installation You Won't Regret
Our certified installers ensure top quality while working to provide a hassle-free remodel.
North & South Carolina's Kohler® Walk-In Bath Dealer
Kohler® Walk-In Baths are the perfect solution to help you enjoy the luxury of safe, therapeutic bathing in your home. Learn more about the benefits and safety features of Kohler Walk-In Baths below or schedule a walk-in bath installation today!
Call BathPro today at 844-786-2882!

Safety Features & Ease of Use
KOHLER Walk-In Baths offer advanced safety features to help you bathe independently and stay in the home you love.
Ultra-Low Step-In for Easy Entry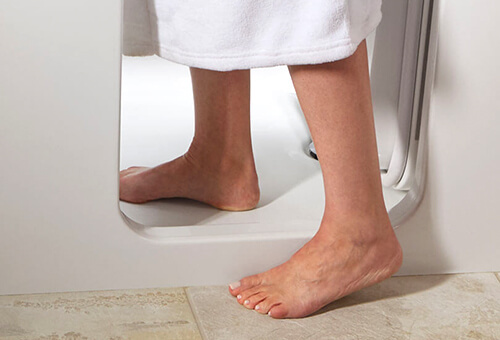 We offer the lowest step-in threshold available at just 3″, so you can exit and enter your walk-in bath with confidence. Our ultra-low step-in still prevents any water from spilling into your bathroom, while providing a very short step to enter your bath, helping to keep you safe and secure.
Easy-To-Grip Handrails for Stability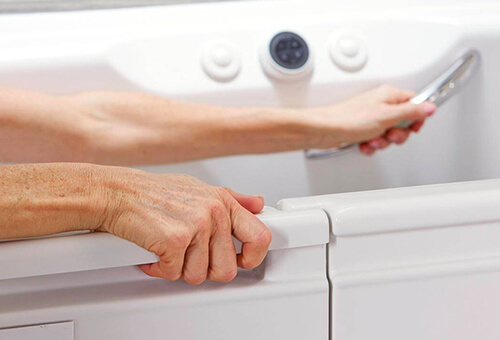 Thoughtfully designed and positioned handrails are placed within the interior and exterior of the bath, helping you ease in and out of the seat safely. The interior rails help you transition from sitting to standing position without losing stability, while the unique exterior frame rails allow for a firm grip on the outer wall of the bath.
Wide Entry Door for Easy Access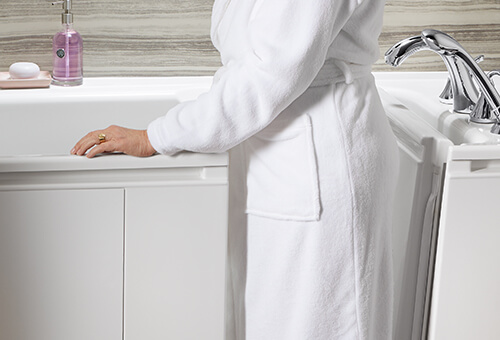 Our extra-wide door is at least 20% wider than other walk-in baths, and opens all the way into the bath to give you more stability when you enter and exit. The door opening itself is also one of the widest you'll find anywhere, giving you plenty of space to step in and out of your walk-in bath comfortably. Our easy-to-turn door handle firmly secures the air-tight door seal, which is backed by Kohler's lifetime limited warranty.
Easy to Reach Controls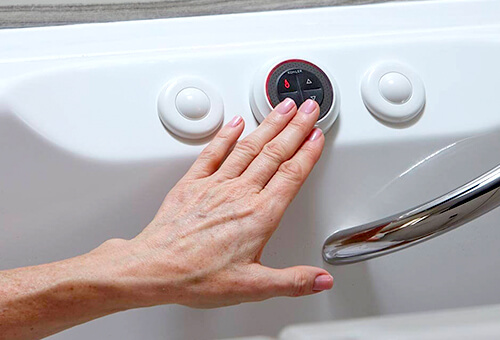 Our simple, easily accessible control panel helps you adjust the Bask™ heated backrest, BubbleMassage™ air jets, and numerous whirlpool jets while safely seated. Its ergonomic ensures complete convenience as you bathe. With three adjustable jet intensity settings, you can easily target and soothe different areas of your body.
Therapeutic Benefits of Walk-in Bathtubs
KOHLER's industry leading therapeutic technology provides unparalleled comfort and relaxation as you bathe.
Reduce Stress & Soothe Sore Muscles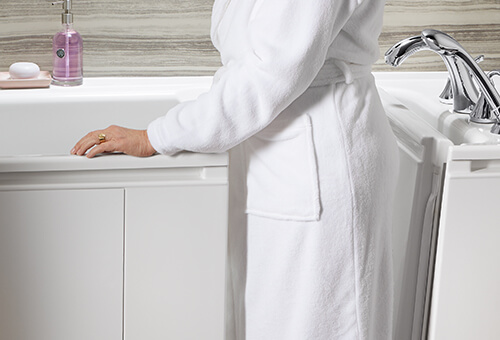 Walk-in tubs are well suited to reduce stress, soothe sore muscles, and calm the skin with the therapy of warm water. Not everyone who purchases a walk-in bathtub is of an older age—in fact, if you are an athlete, or if you have common ailments such as stress, arthritis, diabetes, poor heart health, or trouble sleeping, owning a walk-in tub opens you to the freedom of relaxing in your very own day spa.
Explore our walk-in bath and walk-in shower features today, or contact us to schedule a consultation.
Whirlpool Jets and BubbleMassage™ Air Jets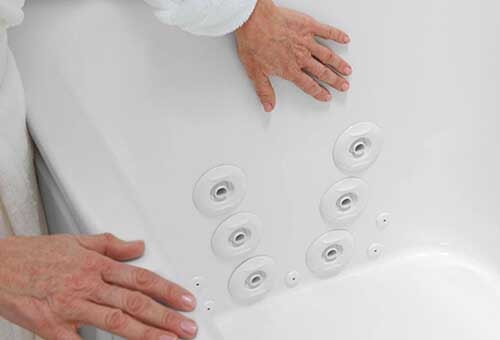 Kohler walk-in bathtubs have led the industry in whirlpool and plumbing technology since 1873. Featuring strategically placed, adjustable jets, our walk-in baths soothe areas of the body that deserve extra care and attention.
Our walk-in bathtub also features Kohler's unique BubbleMassage™ adjustable air jets that surround your body with thousands of tiny, massaging air bubbles for an incredible experience. With water jets targeting the front of your legs, behind your calves, and along your back and spine, bathing is a revitalizing luxury.
Bask™ Heated Backrest and Extra Wide Seat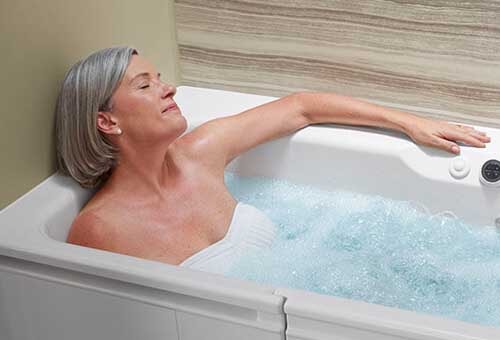 Included with every Kohler walk-in bath, our Bask® heated back, neck, and shoulder surfaces keep you warm and relaxed. Turn the heat on as you enter the tub, recline against these surfaces as the tub fills with water, and enjoy the radiating warmth as you bathe. Kohler's engineers have developed one of the most spacious walk-in bathtub interiors available, with an extra-wide seat that's up to 30% deeper than other baths.
Walk-in Tub & Shower Conversion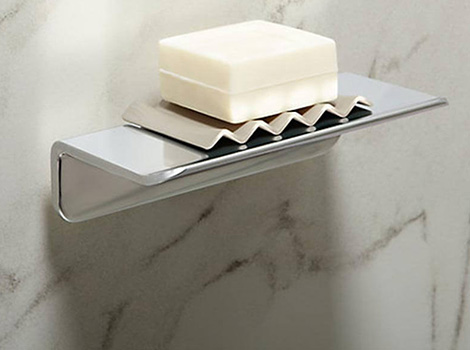 Did you know that your walk-in tub can double as a deep soaking tub and as a stand-up or sit-down shower? Simply ask the local bathroom installers at BathPro about choosing a personalized faucet set with extendable showerheads and an easy to grip handrail. If you are supporting live-in parents or seniors in your family, the dual use of a walk-in bathtub and shower are a benefit for the whole family.
Hydrotherapy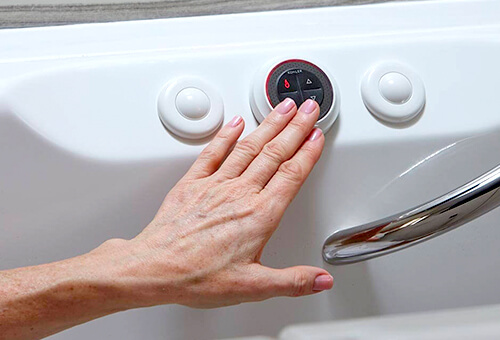 Our Kohler walk-in baths use hydrotherapy to support the cure of pain and tension with the mindful use of heat, air, and water. Enjoy your next soak with therapeutic whirlpool jets, or adjust the temperature of heated surfaces to your ideal settings. Feel tight muscles release as your endorphins rise. Now you can savor your experience in a walk-in tub, as hydrotherapy is one of the most natural forms of healing therapies.
Low Step Entry Threshold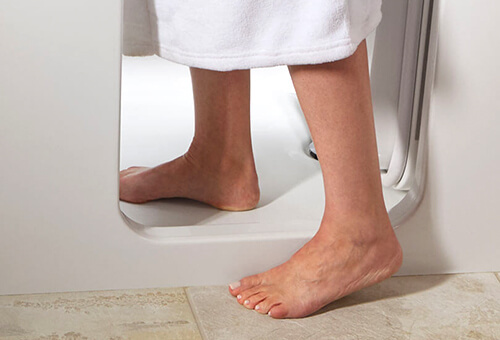 If you desire to have an easy access bathtub or roll-in shower, Kohler walk-in-baths have the lowest step-in threshold available at just 3 inches, are built with wide entry doors for easy access, and offer easy to reach controls. Compared to conventional bathtubs, walk-in tubs have a significantly lower risk of slipping or falling. In effect, the task of bathing becomes simple again, and enjoyable.
Walk-in Baths for Aging in Places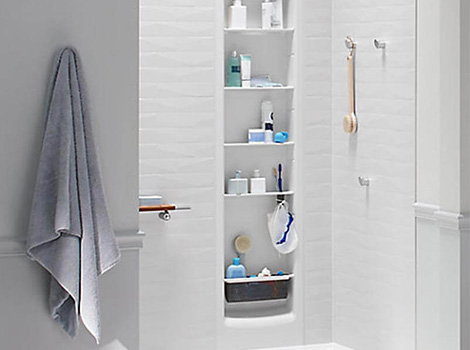 No matter where you are in your life, walk-in bathtubs and showers are a wise investment in your future. With a simple, one-day installation, you may transform your current bathroom design to include an easy-access shower or senior-friendly bathtub that will help you to stay in your home and bathe with ease. These many benefits of a walk-in bathtub allow you to enjoy your quality of life to the fullest.
Walk-In Bathtub Options & Specifications
Personalized features allow you to make your Kohler walk-in shower or bath your very own.
LuxStone™ Bath and Shower Wall Collection
Transform your bathing space without any major renovations using Kohler's affordable, high quality LuxStone™ bathroom wall panels. Choose from a wide selection of patterns, textures, and colors to make your walk-in bath or shower fit your personal design esthetic, or add optional accessories for increased storage space. Kohler's durable, stylish, LuxStone™ wall panels are engineered to make infrequent cleanings incredibly easy, and they can be installed on the same day as your new walk-in bath!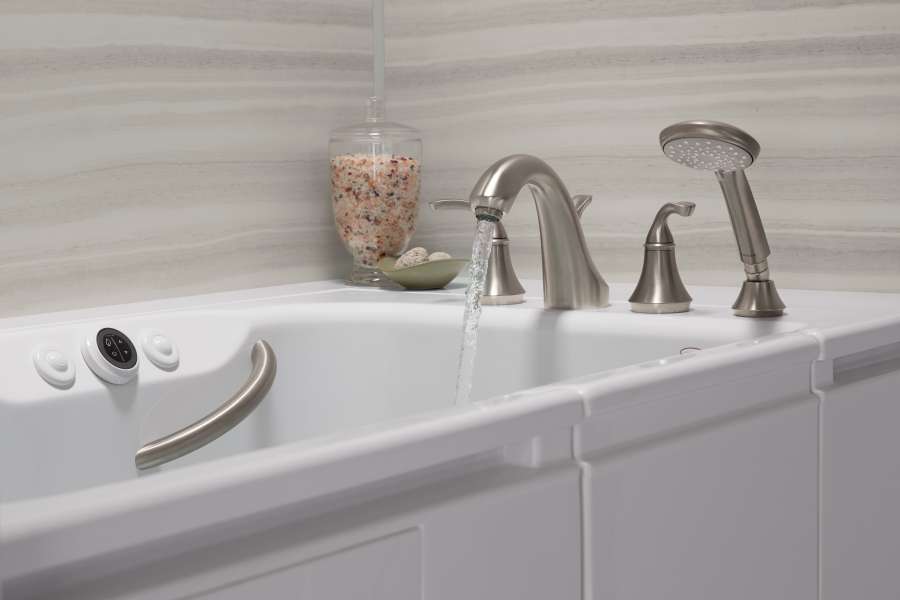 Select Walk-in Bath & Shower Specifications
Kohler walk-in tubs and showers are backed by over 140 years in the design industry, bringing you the luxury of ergonomic bathroom features you can customize to make your own. Whether you are performing a bathroom renovation or want to upgrade to an easy-access shower or walk-in tub, BathPro offers options you can personalize to make your very own. Are you interested in customizing your walk-in-bathtub or walk-in shower in North Carolina? Give us a call at 844-786-2882 or contact us today!
Walk-In Bath Door Threshold Is Just 3″ Tall For An Effortless Entry
Step-in height may vary slightly depending on your home's bathroom layout and specifications. The average step-in height on our walk-in baths is three inches.
Filling and Draining Time
Bath Fills And Drains Fast, In Just A Few Minutes On Average
Kohler walk-in baths have been carefully designed to have some of the fastest filling and draining times available on the market. Please note that fill and drain times may vary depending on the water pipe capacity and flow rate of your home's plumbing system.
Air Jets & Whirlpool Jets
17 Bubble Massage® Air Jets, 10 Whirlpool Water Jets
We don't have the most jets of every walk-in bath out there—that's intentional. Kohler's engineers built the KOHLER Walk-In Bath to feature the optimal number of high-quality jets that are more strategically positioned to maximize comfort, while maintaining a higher level of water jet pressure and air jet intensity.
Exterior Frame: 52″ L x 28″ W x 39″ H (Up To 60″ L x 32″ W) Interior Seat: 21 1/2″ W x 17″ H
All Kohler walk-in baths can be customized for width/length and leveled to fit precisely within your existing bathtub space.
31 1/2″ Bathing Depth For Maximum Comfort
Most home water heater tanks are large enough to easily fill our bath with hot water. However, if you have a smaller than average water heater, please ask your Product Specialist about affordable water heater upgrade options.
Schedule a Walk-in Bath Consultation
Are you unsure how your bathroom design will work with a walk-in shower or walk-in bathtub? At BathPro, our service professionals can come to your home to carefully measure and assess your bathroom before a bathroom renovation, to provide you with detailed options you can choose from.
Whether you would like to remodel your bathroom to include a wheelchair accessible shower, upgrade to a senior friendly bathtub, or simply desire an easy-access shower or tub that helps you to relax and rejuvenate, we encourage you to call us first to learn how we may best accommodate you.
Get started today by giving BathPro a call at 844-786-2882 or contacting us online below!
Your Kohler Walk-In Bath & Walk-In Shower Dealer in North & South Carolina
Located in Clemmons, North Carolina, BathPro is the exclusive dealer of Kohler walk-in showers and walk-in bathtubs in the state. With exceptional professionalism and customer service, the bath and shower installers at BathPro are passionate about achieving the highest customer satisfaction ratings for shower and bathroom renovations in North & South Carolina.
We proudly serve all of North & South Carolina, in and throughout the areas of Clemmons, Asheville, Cary, Chapel Hill, Charlotte, Concord, Durham, Fayetteville, Gastonia, Greensboro, Charleston, Columbia, Spartanburg, Greenville, Raleigh, Wake Forest, Wilmington, and Winston-Salem.
Is it time to enjoy the benefits of a luxury walk-in shower or bathtub for your home? Give BathPro a call today at 844-786-2882 or schedule a consultation online below.
North & South Carolina's Walk-In Bath Installers
BathPro provides quality walk-in bath installations throughout the greater North & South Carolina area, including the cities of Cary, Charlotte, Durham, Raleigh, Charleston, Columbia, Spartanburg, Greenville and Wake Forest. You may select to install a walk-in bath for several reasons, such as to create a new look with a bathroom remodel, add comfort and ease to your bathing experience, or to safely age in place using senior-friendly bathroom design.
Take a moment today to learn more about walk-in bathroom installations by BathPro. Browse our custom walk-in bathroom design options below or learn more about our one-day bathtub installation process when you contact us online.
Service Areas
Serving all of North Carolina
Asheville, NC
Cary, NC
Chapel Hill, NC
Charlotte, NC
Concord, NC
Durham, NC
Fayetteville, NC
Gastonia, NC
Greensboro, NC
Greenville, NC
Raleigh, NC
Wake Forest, NC
Wilmington, NC
Winston-Salem, NC
and more
Serving all of South Carolina
Charleston, SC
Columbia, SC
Florence, SC
Greenville, SC
Myrtle Beach, SC
Rock Hill, SC
Spartanburg, SC
and more